Small Bathroom: Ideas to Organize It Well
The fact that a bathroom has a small surface does not prevent its functionality or its decoration. On the contrary, the lack of space constraints ingenuity. Here are all the tips and tricks for designing a small bathroom.
With on average less than 5 m² of surface, the bathroom can seem complex to arrange as to decorate by its small size and even more when it suffers from a quirky configuration, whether it is lengthwise or installed under the attic. However, the furniture and accessories dedicated to the modern bathroom are more and more often studied to make this small space functional and pleasant: mini basin, small and multifunctional furniture, wall storage…. Space-saving requires the shower Italian style is very frequently installed there. When the foundations do not allow it, the latter is often replaced by a shower cubicle, square or in an arc. The small modern or designer bathroom uses clean lines to give a feeling of space. In terms of materials, wood, tiling but also waxed concrete is in the spotlight to create a harmonious room.
Small bathroom with a bathtub
There is no ban in a bathroom, even a small one, but a real shower is better than a fake bathtub. Indispensable for fans of long hot baths, practical when you have children, the bathtub also allows you to shower, but its interest is limited if it is too small: below 160-170 cm you cannot get in lie down to relax. It will therefore be necessary to take care to optimize the space as much as possible to afford a bathtub worthy of the name, even if it means choosing less bulky furniture or skipping a few storage spaces. The ideal is to position it over the total width of a wall when the bathroom is rectangular. When the bathroom is long, it will be placed in the continuity of the washbasin cabinet. The corner bath can also be an option depending on the room configuration.
Small bathroom with a shower 
If space does not really lend itself to it, it is better to opt for a walk-in shower. More spacious than a traditional shower tray, this solution, as practical as it is aesthetic, can easily accommodate a small bench. Do not hesitate to cover with earthenware or mosaic if you want to laze a little. The walk-in shower will have the advantage of visually enlarging the room and being able to be made to best match the dimensions of the room. A shower cabin will also easily find its place and will have the advantage of being very compact. Note that a small bathroom with a shower will also be easier to fit out, since the shower is installed in a corner of the room, it leaves a little more space for the washbasin cabinet and some storage space.
Small bathroom in length
With little width, you have to be cunning to arrange the different elements. In this case, you can install the shower at the bottom over the entire width of the room, and place the basin at the entrance. A suspended washbasin will here free up space below to install, for example, a small washing machine. On the storage side, we will focus instead on niches and high furniture, preferably shallow, so as not to clutter up the floor space.
Another solution is to install the toilets at the entrance to the room and the sinks at the back. In the center, we will place a shower with two sliding walls to be able to cross it and access the other end of the room.
Small bathroom in the loft
It all depends of course on the available surface, but this configuration, often located in the attic, is more suited to the installation of a bathtub. While it will be impossible to fit a shower there, a bathtub will indeed find its place in the lower part of the room. To best occupy this "lost" space that does not really allow you to stand up, you can also place a series of cupboards and other storage. The washbasins, the washing machine, and possibly the toilets if they are not separated, will find their place in the upper part of the room.
Small bathroom with a water closet
If you do not have a separate toilet and also need to fit a toilet in your bathroom, it is better to opt for a compact suspended model, rather than a standard width toilet. Advantages: this saves a good dozen centimeters, but above all it frees up floor space, thus facilitating circulation but also cleaning. Note that the shower screen can serve as a separation between these two spaces. You can also opt for a half partition to isolate the toilet in the room.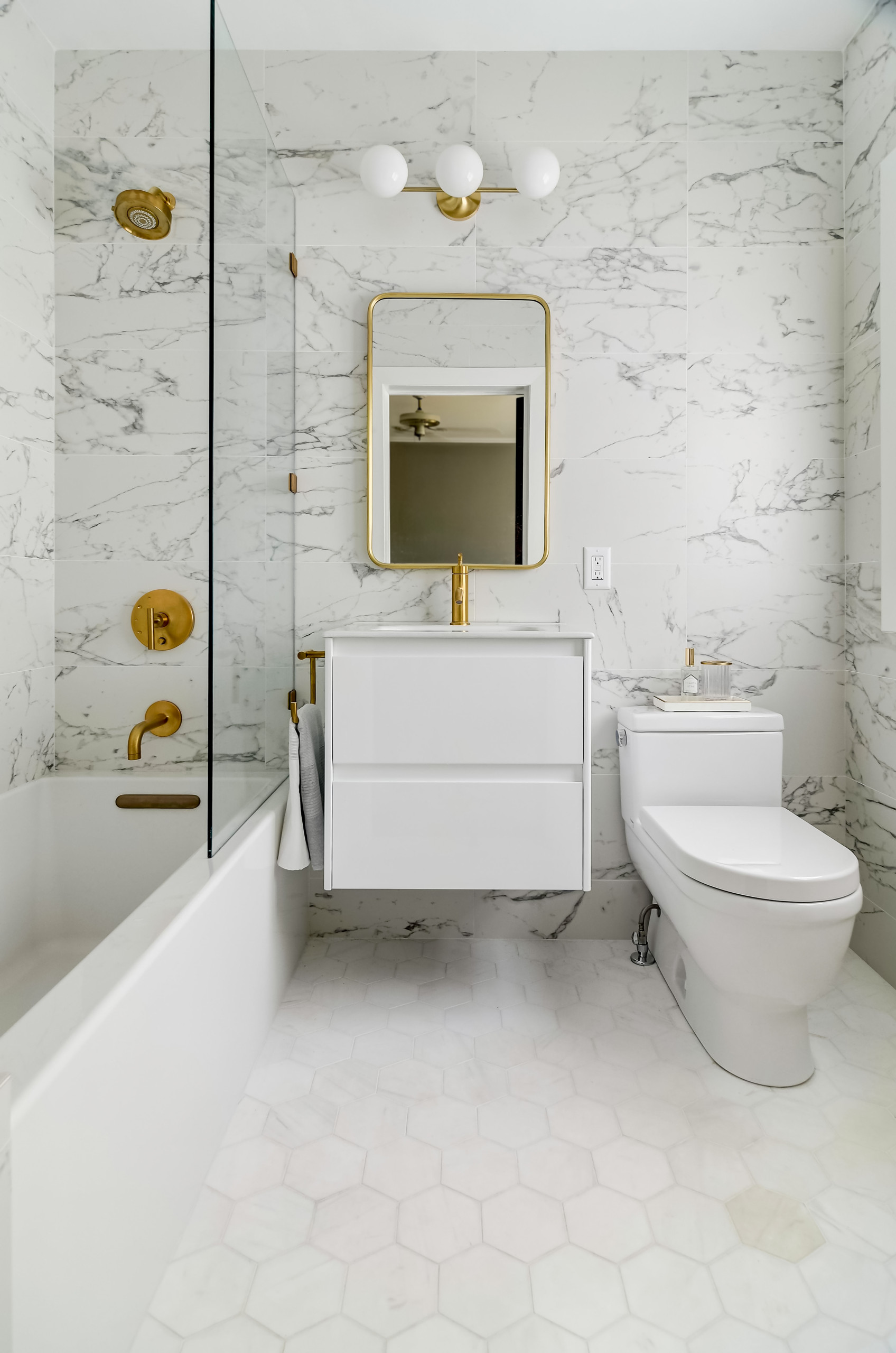 Planning tips
All means are good to maximize the space in a small bathroom. Besides the practicality of these things, a lot of tricks are employed to truncate the reality and make these quirky powder rooms look like large and clean bathrooms. We then opt for a transparent shower screen so as not to "cut off the space", we create openings in the walls, glass-like, to let light pass, from the outside or from the adjoining room. Circling the water area with a colorful mosaic or graphic tile can also add relief to the room, as can well-targeted lighting. Mirrors, on the other hand, provide an impression of depth, if properly placed.
What storage in a small bathroom?
Put your towel rails high up, and prefer a medicine cabinet to a simple mirror above the sink. If you are in too limited space, multiply the clever storage, such as telescopic or wall bars, which are very easy to install and on which you can hang a host of small accessories. Glove holder, cup holder … You will even find hairdryer holders!
Multiple pocket organizers, which can be hung behind a door or on a wall, are also very practical for small, everyday items. On the same principle, but in an XXL version, you will find the plastic shower curtain, with dozens of these small pockets. Finally, in the shower, you can install a corner shower valet or several small mobile baskets with suction cups.
For the bath, acquire a bathtub bridge. Often very beautiful in exotic wood, this accessory will allow you to keep your favorite products close at hand.