14 Efficient Solutions to Design a Windowless Bathroom
Without the right decor ideas, lighting and ventilation, a windowless bathroom can become a nightmare. To avoid it, follow these tips.
Focus on light colors, mirrors and transparency to enlarge the space
Make sure to declutter and tidy up the water feature
Add green plants for a bathroom that breathes
Many of you live in an apartment or a house with a windowless bathroom. Renter or owner, you are wondering how to bring light and visually enlarge this room, without having the necessary budget to embark on big and expensive renovations.
I regularly advise my clients on this issue. Colors, lighting, accessories and ventilation… Discover my ideas and tips for furnishing and making your windowless bathroom pleasant, bright and airy.
We start with the ideas of colors. If your bathroom is small, I advise you to go for white or light colors. They reflect the light, bring a luminous atmosphere and visually enlarge the space.
White to visually enlarge the bathroom
Painting the walls white and also choosing white wall tiles is an effective way to reflect light throughout your bathroom. To overcome the monotonous white, you can play on the shapes by opting for a white scale tile or opt for an original installation.
Combine clarity and softness with pink
If you want to avoid the clinical side of white, a color like pale pink or a nude is a good alternative. However, I recommend that you avoid bright or deep colors, making the space look dark and smaller without natural light.
You can change the shower tray from white but stay on a light color. An extra flat powder pink shower tray brings both elegance and softness to a small bathroom.
Bring a pebble gray shade, neutral and contemporary
Gray is a discreet color that is easy to combine. Gray paint is ideal for creating a rather contemporary universe. Matched with hints of black, gray brings an urban feel to the bathroom. Also, combined with wood, it provides a warm and relaxing atmosphere.
Multiply the contrasts for more depth
In a small, narrow bathroom with no natural light, we rely on white to create a pleasant space. The floor covering with cabochons creates contrast and gives a nice dynamic to this cramped bathroom.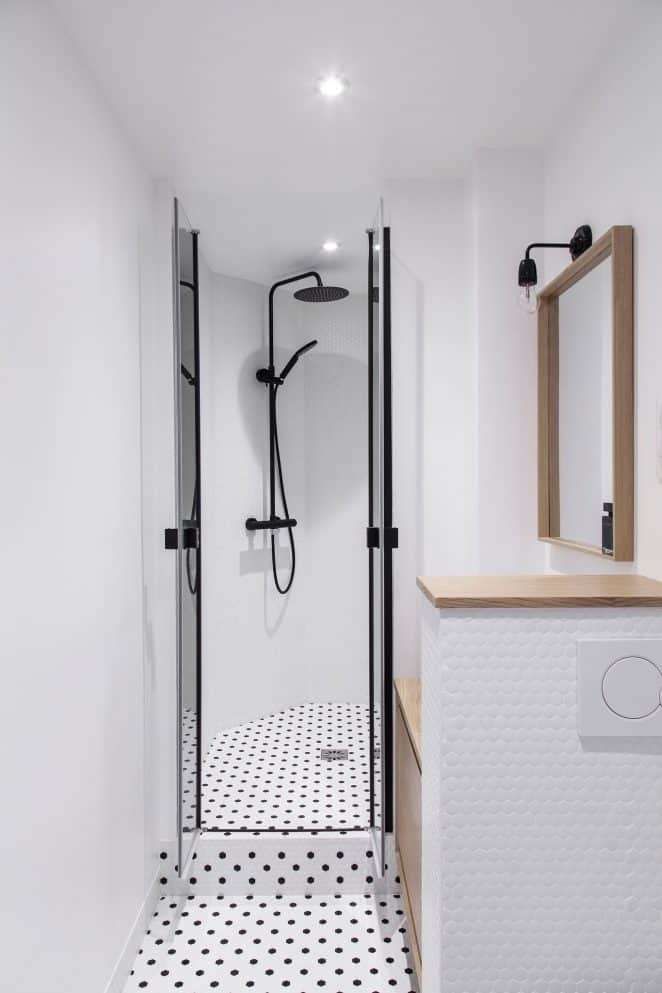 Illuminate with sea green for a fresh pastel bathroom
You can also let yourself be tempted by water green: this timeless and trendy color can be used as a wall covering or in small touches with accessories. Nuanced and natural, this color immediately gives a spring atmosphere, bright and relaxing.
After the colors for bathrooms without windows, we move on to accessories. In particular the integration of transparent elements. The addition of transparent accessories allows light to pass through and visually ventilates the space.
Install a transparent shower screen for the perspective
Avoid a solid wall and opt instead for an elegant clear glass wall to give a sense of space in your room.
Avoid loss of light with a frosted glass door
You can also change your solid bathroom door with an opaque glass door. It is an opening that is both practical and aesthetic and which lets light through while preserving your privacy.
Mirrors visually enlarge a small space to create the illusion of a larger bathroom. They also allow the light to be returned.
Think of the glass wall as a substitute for windows
A little heavier as work obviously: a glass wall! It allows you to create, for example, a very decorative parental suite. The bathroom can then benefit from the light from the bedroom.
Dare the XXL mirror for a beautiful optical effect
Large round mirrors are popular. With a thin frame, they dress a bathroom cabinet with elegance and visually expand the room.
Reflecting light with a bathroom column
Above all, do not hesitate to multiply the mirrors by hanging them on the walls or integrating them squarely into the furniture, such as this storage column with a mirrored door.
Play on an impression of escape with a wall of mirrors
We play again on the accumulation of mirrors in this very "magic house" bathroom with its dream catcher. The idea is to create optical illusions, let in light and illuminate every nook and cranny of your windowless bathroom.
A bathroom with too many accessories and mess is a dark and smaller bathroom. The watchword to solve this problem: minimalism. So sort it out!
Feel comfortable with fluid and clean lines
Bet on a maximum of closed storage. A clean work surface and minimalist decoration: this is the secret to a tidy, bright and pleasant bathroom, even without a window.
Save space with baskets and storage boxes
Tidying up is not always easy and especially in small spaces. Choose modular storage to optimize space. You can then easily slip them into a corner of the bathroom.
Add green plants for a feeling of freshness in the windowless bathroom
Adding a plant or two to your windowless bathroom is a great way to bring a sense of well-being and nature.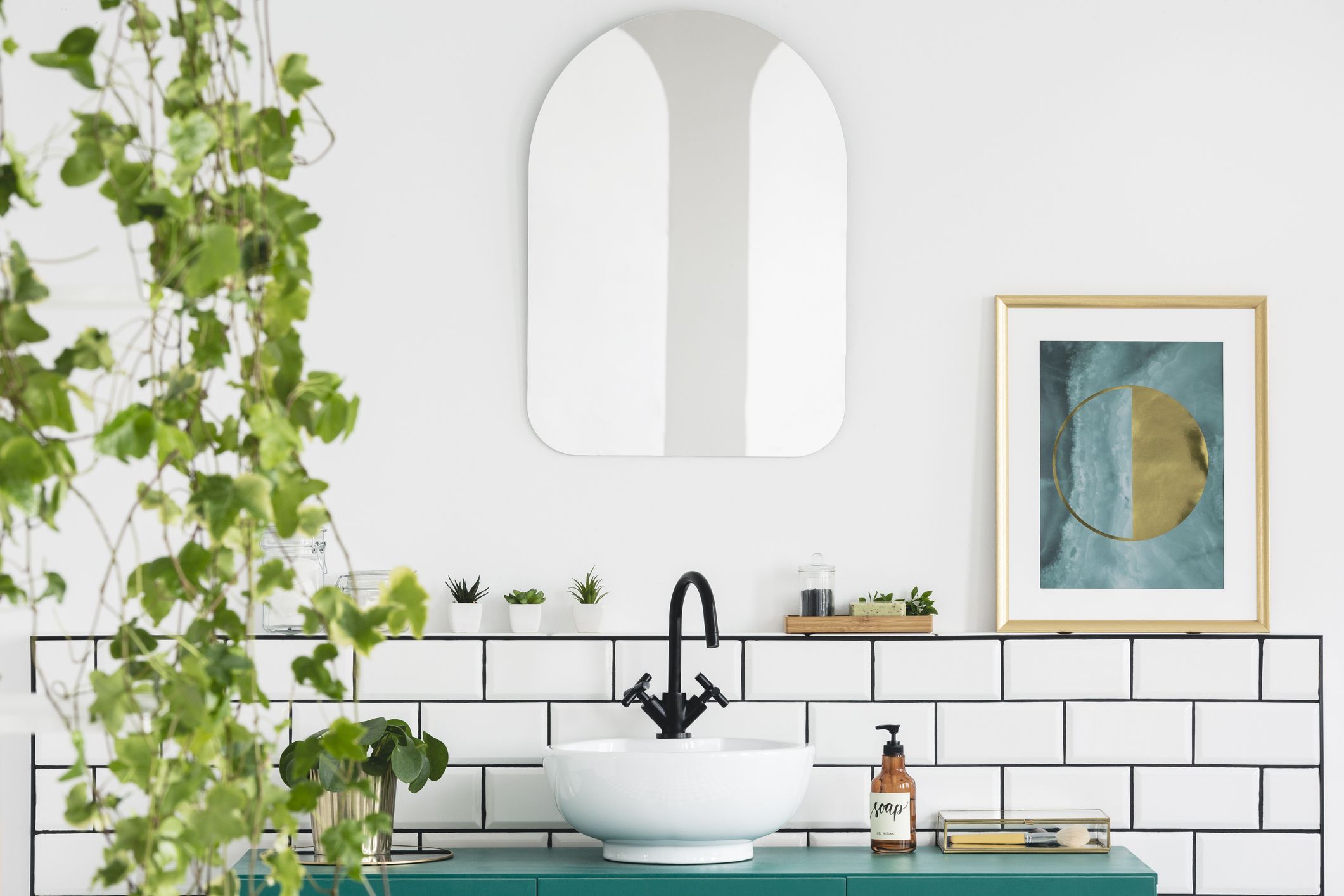 You see that there are solutions to have a bright and pleasant bathroom even without a window. You will be able to transform your dark bathroom into a little cocoon of light and well-being. And to polish up the decor, you can also go for inspiration with our article on decorating ideas for an ideal bathroom.
How to ventilate a bathroom without a window?
The best is to have a VMC (Controlled Mechanical Ventilation) which extracts the air and humidity to evacuate it to the outside. If not, there are a few tricks you can resort to avoid the humidity problem in a windowless bathroom. For example, leave the door to the room open for natural ventilation. After each shower, open the door to let out the heat and renew the air.
I also advise you to avoid drying your laundry in the bathroom to limit sources of humidity. You can also use the door relief method. This involves integrating a door that does not touch the floor to let air and moisture escape. Otherwise, you can also install a dehumidifier.
How to choose the right windowless bathroom lighting?
In a windowless bathroom, the idea is to try to create the illusion of natural light to have a pleasant room. It is therefore necessary to multiply the light sources. Create vertical light from the ceiling with spotlights for example. You can also integrate light fixtures at eye level on either side of your mirror. Do not hesitate to light up every corner of your bathroom.
Which plant to choose for a windowless bathroom?
The trick is to choose plants that thrive in dark places and love humidity and heat. Here are some ideas of plants that like in the bathroom: fern or philodendron which loves humidity, Aloe Vera which does not like direct light, chlorophytum or even tillandsia capable of absorbing moisture. humidity after a shower.